Double Duo Bundle
Regular price

$ 70.00

Sale price

$ 56.00
Boost & Maintain your pearly whites with our LOVE DUO Bundle! These easy grab-n-go products will take whitening with you wherever you go. 
INCLUDES
2x Whitening Pens 
2x 14 Ct Stain Erasers
WHITENING PEN
FAST & EFFECTIVE

This pen went viral for a reason! It work and it works FAST! This portable whitening serum comes in a leak-free pen design that fits in your pocket or small purse. You can whiten at home, in the car, or at the office.
GENTLE WHITENING WITH REAL RESULTS
Our teeth whitening pen is safe to use on crowns, veneers, and other dental materials. Most men and woman see teeth get almost 2 shades whiter after just one application!
Ingredients:
  Alcohol, PVP, Hydrogen Peroxide, Flavor.
STAIN ERASERS
The GO SMILE Stain Erasers are portable and fast teeth-whitening applicators that you can take with you wherever you go!
FLIP applicator over from paper sleeve and reinsert it with the applicator pointing outwards.
POP the applicator between thumb and index finger. With the applicator pointing down, squeeze firmly until the inner tube pops and is saturated with the whitening formula. Make sure the applicator is pointing down and fully saturated – almost to the point of dripping – before applying.
ERASE directly on each tooth's surface in a circular motion. Avoid sensitivity by targeting away from the gum area. Continue to squeeze the applicator to move the whitening formula as you go!
After applying, wait 20 minutes before you rinse, eat or drink. 
Ingredients: Alcohol, PVP, Hydrogen Peroxide, Flavor/Aroma.
Share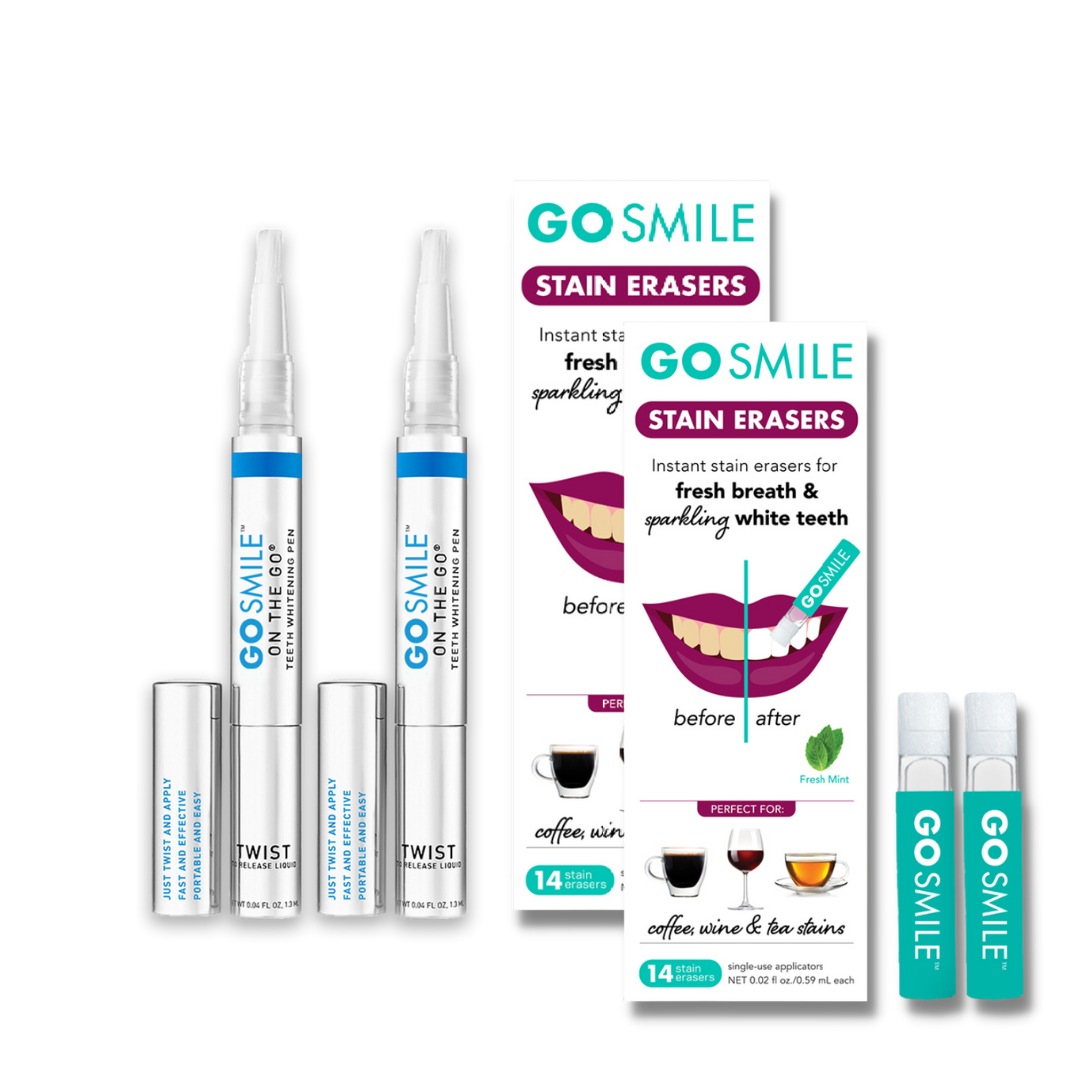 The Benefits
Description
How It Works